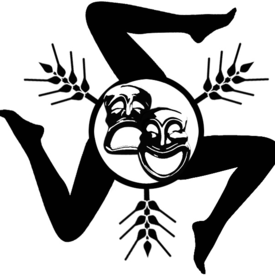 Trinacria Theatre Company
@trinacriatheatreco
Making a place for the arts within communities at home and across the globe.
Pezzolo. A rural village on the periphery of Messina on the north east coast of Sicily. A region that has survived economic stagnation, population decline, high unemployment rates, and natural disaster - and lives to tell the tale. A place like no other, visitors to Pezzolo have always been sure to find three things: a beautiful and peaceful landscape, an enchanting mythological history waiting to be mined—and a severe shortage of regular arts and culture programming.
Well. Until 2016, that is.
Driven by an urgency to preserve and share Pezzolo's rich cultural identity, Sicilian-American director Mariagrazia La Fauci held auditions in Boston and New York City in the spring of 2016. Her mission? To form a company of actor-devisors to take to Pezzolo: theatre makers who were not just strong performers but also had a passion for being active creators and serving the local community. She warned those selected that, far from a vacation, the trip would be hard work. The hours would be long, the heat intense and they would be undertaking volunteer community work wherever they could. Everyone said yes. And so, our first Sicilian Residency was underway and Trinacria was formed.
We've come a long way since 2016. Our Sicilian Residency program is still in full swing, we've staged three productions through Trinacria Theatre Company and have begun working towards an international Arts Festival. We work regularly between Sicily and the US, not only helping to build a cultural movement in Sicilian villages like Pezzolo, but also providing global communities an opportunity to connect.
For three years now, we've been using the arts to help build communities. We've seen that it works. The response we've had from local people has been overwhelming. So far we've been based in Sicily and the USA, but we want to look further. The impact we've seen our work having on the communities we've engaged with reaffirms our belief that that the arts are essential to a healthy, happy society. Our hope is that, in the years to come, we will be able to take our work to more and more places, playing our part in a worldwide movement to re-establish the arts as a key part of the foundations on which our societies are built.
This profile is the owner of this organization and can't be deleted. Here are some other things you can do:
1. Hide this profile from view. To do this this, click 'edit' next to the profile name and check "Hidden from public view"
2. Delete this organization and all its data. To this go to settings and click on 'delete this organization'