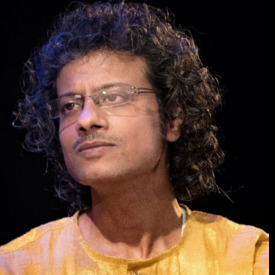 Anirban Chakrabarty
@anirbanchakrabarty
Anirban Chakrabarty hails from a family of Musicians. His father, Amal Chakrabarty is a dedicated vocalist. From his very childhood Anirban was initiated to Hindustani Classical Music by his father. He is a post graduate in music with first class from the Rabindra Bharati University. Although he is a good vocalist, his keen interest in playing Harmonium have driven him under the tutelage of Pandit Manas Chakraborty, the doyen of Kotali Gharana to master himself in the gayaki of Kotali style. He has also keen interest in composing music in lighter forms. The guidance of the Master Musician has already shaped him in well organized Harmonium player, and hoping him to be a musician of high repute in future.
Anirban has to his credit a number of brilliant performances as a harmonium accompanist throughout the country with both upcoming and reputed musicians with notable participation in Tarapada Music Conference, The Dover Lane Music Conference, Uttarpara Sangeet Chakra, Anirban Sangeet Sammelan, Sangeet Piyasi, Mahfil, Paramparik-The Tradition, Sur Chhandam, Sahana Baahar, ICCCR, Sangeet Darbar, Raga 2001, 'Music For Peace', Sur Sagar Society, Gharoa, Ranchi, Meifil Nagur, Sangeet Sankalp, Chandrapur, Habitat World, New Delhi, Epicentre, Gurgaon, Birth Centenary Celebration of Sangeetacharya Tarapada Chakraborty at Nazrul Manch and Rabindra Sadan, Harballav Music Festival, Jalandhar, West Bengal State Academy Annual Music Conference, Bishnupur Utsav organized by W.B. Tourism, Salt Lake Music Festival and many others. Accompanied musicians of repute like Pandit Manas Chakraborty, Pandit Dinanath Mishra, Pandit Arun Bhaduri, Pt. Venkatesh Kumar, Pt. Ganapati Bhatt, Smt. Kankana Banerjee, Gaan Saraswati Shreela Bandopadhyay, Ustad Masqur Ali Khan, Pandit Madhup Mudgal, Pandit Sounak Abhisheki, Sri. Sarathi Chatterjee, Smt. Ruchira Panda, Sri. Subhasish Mukherjee, Smt. Raka Mukherjee, Sri. Ratan Mohan Sharma , Sri Omkar Dadarkar, Sri Sanjoy Banerjee, Smt. Mitali Bhawmik, Smt. Priyadarshini Kulkarni ,Smt. Sangeeta Bandyopadhyay, Smt. Vidya Rao Smt. Arati Ankalikar and many more. He is also a regular artist of several television channels. Besides, he is equally adept in playing tabla, keyboard, guitar and also worked as an arranger for several light music album.
Recently popular commercial artists like Srikanto Acharya, Indrani Sen, Manomay Bhattacharya and Shampa Kundu, Tarun Chakrabarty have jointly made an album of Modern Bengali Songs, composed and arranged by Anirban.
Being invited & taken part in numerous music festivals Anirban has visited UK, GERMANY and USA several times as a harmonium accompanist and earned accolades both from
music lovers and connoisseurs.