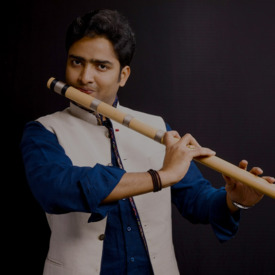 Bhaskar Das
@bhaskardas1
Indian Classical Flute Player
Bhaskar is one of the finest Bansuri players of the youngest generation of Indian musicians. Having grown up in an atmosphere of music – his father, Pandit Gopal Das is one of the pioneers of Indian classical music on the clarinet – Bhaskar's journey in the world of music started at the age of three, his father being his first guru. At the age of eight, Bhaskar performed for the first time at the Prayag Sangeet Samiti's conference in Allahabad and until date, he has performed extensively in India and abroad, both as a soloist and as part of a group.
An ICCR empanelled artist, "A" grade artist by All India Radio & Doordarshan, Bhaskar has also received multiple awards - "Young Talent" Award by Allahabad Museum, Sangeet Natak Academy Music Competition, Sangeet Samiti Music Competition, Sahara International Music Competition, etc. In 2017 he had the privilege of performing for an ICCR event in Delhi hosted by Indian prime minister Narendra Modi for the King Philippe of Belgium. Bhaskar is also the recipient of a national scholarship offered by the Government of India, which allowed him to complete his Master's degree from Banaras Hindu University with distinction.
Bhaskar's strength lies in his ability to imbibe the essence of classical music's rich heritage while being able to then interpret it in his various collaborations. Now based in Mumbai, he has worked on five albums – "Bhaskar, The Rising" (2014), "Shrutipath" (2016), "Naad Sutra" (2016), "Meditative Melodies" (2017), "Naman – A tribute to the master"(2017) and "Puriya" (2018).