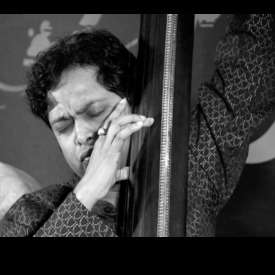 Deborshee Bhattacharjee
@deborshee2000
A promising and versatile musician of this age, Deborshee was born in a musical family and was introduced to music at the age of 5 by his mother and first guru,Smt.Reena Bhattacharjee. Trained under the legend Pt. Ajoy Chakraborty for the last twenty five years,his versatility reflects not only in his performance of different genres of music but in his music compositions as well. Deborshee has been blessed by stalwarts of Indian Music such as, Late Pt. Bhimsen Joshi, Vidushi Lata Mangeshkar,Late Pt. Ravi Shankar,Pt. Shiv Kumar Sharma, Pt. Hariprasad Chaurasia, Pt. Jasraj, Ustad Zakir Hussain, Suresh Wadkar, Pt. Rajan and Sajan Mishra, Sonu Nigam, Shankar Mahadevan and many others.
The diversity of his music reflects in his albums wherehe has performed in different genres of music like Ghazal, Sufi, Bhajan, Bengali songs, etc. He released his first album, 'New Signature' from Geetinandan and his first Bengali album, 'Keno Obhiman', from Cozmic Harmony. Currently a senior Musician of ITC Sangeet Research Academy, Kolkata, Deborshee is an 'A' graded artist of All India Radio & a senior teacher at the esteemed institution Shrutinandan.He is a regular performer in television and an empaneled artist of ICCR, Government of India.
He has been a prolific performer from the age of 10 when he made his debut at Sisirmancha, Kolkata. A regular stage performer since, gathering acclaim from listeners across the globe. His notable performances include Bengal Foundation, NABC (New York), Raagmala, Toronto,Dr. Vasant Rao Deshpande Smriti Samaroh,Nagpur and quite a few times for the prestigiousBhavan's Cultural Centre, Mumbai,extensively toured Shanghai,China for some prestigious concerts there,ITC SRA Sangeet Sammelan, Kolkata,Mangaldeep Sammelans organised by ITC SRA at Goa, Baroda, Ahmedabad, Silchar,Agartala, Varanasi, Behala Classical Festival, NCPA etc.