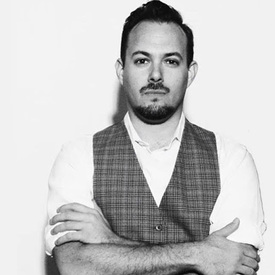 Louis Levitt
@louislevitt1
As a founding member of Sybarite5, Louis Levitt was the first double bassist to win the Concert Artist Guild Competition. Since then, he has performed with Sybarite5 in hundreds of concerts across the nation recent highlights include Carnegie Hall, Lincoln Center, the Library of Congress, Wolf Trap, Grand Tetons Music Festival, and the Aspen Music Festival. Internationally, he has appeared at the New Docta International Music Festival in Argentina, Tuckamore Chamber Music Festival in Newfoundland Canada, Osaka Festa, in Japan, and at the Forum in St. Thomas Virgin Islands. His self-produced debut EP with Sybarite5 cracked the top ten on the Billboard charts, and their follow up LP Everything In Its Right Place was released at Carnegie Hall on CAG Records. For their latest album, Outliers, Louis launched a record label and the album debuted at #1 on the Billboard Classical Charts.
Levitt currently teaches double bass Mason Gross School of Music at Rutgers University and the Mostly Modern Festival, he is also in demand as a guest soloist and lecturer. He has recently performed and spoken at the Curtis Institute, New England Conservatory, Mannes School, the annual Chamber Music America conference, and the Association or Performers and Presenters national arts conference in New York City.
Mr. Levitt has also recently served a principal double bassist of the Iris Chamber Orchestra in Memphis TN; the NOVUS Orchestra, NYC, NY; the Mostly Modern Festival Orchestra, Saratoga Springs NY; and Stereo Hideout Orchestra, Brooklyn NY.
Levitt is in also in demand as a writer and been published by New Music USA and The 21CM Institute for Music Entrepreneurship at DePauw University.
Inspired by the Phoenix Concert Series in NYC, and Mike Blocks Silkroad Global Musician's Workshop, Mr. Levitt's latest project is critically acclaimed record label, production company, and creative agency dubbed Bright & Shiny Things (brightshiny.ninja) He resides in NYC with his wife and two "spirited" children.