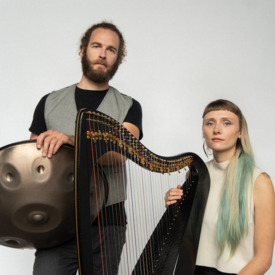 Luminescent (harp & handpan)
@luminescent
Based in Montreal, Luminescent was created in 2015 from the desire to merge two instruments whose sounds complement each other in the most exceptional way: the harp and the handpan. An experimented percussionist and talented multi-instrumentalist, Pierre-Olivier Bolduc's skilled handpan playing displays a rarely seen mastery of the instrument. A harpist for over 16 years, Coralie Gauthier's original approach to the harp combines the technical foundations of her classical background with her studies in jazz and electroacoustic music.
The duo draws its inspiration both from ancient musical traditions such as râgas and gamelan, and modern styles like minimalism and jazz, giving their music a unique sound which is characterized by rhythmic complexity and flowing melodies surrounded by harmonically rich resonances. Kalimba, tibetan bowls and tongue drums also add colour to the ensemble.
Since the launch of their first album in 2017, Luminescent has been very active in the Montreal and Quebec music scene. They've been performing regularly in venues and festivals, collaborating with other musicians and have released two videoclips. Thanks to their latest clip which accumulated more than 2 millions views on YouTube, they've also gained popularity worldwide and a fanbase of more than 24 000 subscribers on their channel.
With a second album on its way and a third clip to be launched in the coming months, Luminescent is looking to expand their horizons further and reach even more people to share their dreamy and captivating music with.