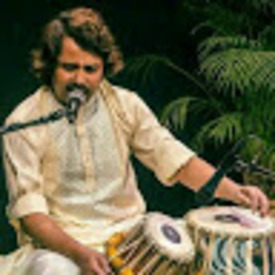 Madhurjya Ranjan Barthakur
@madhurjyaranjanbar
Madhurjya Ranjan Barthakur is one of the brilliant Tabla (Indian Drum) player of the present generation of Indian Classical Music and an academician working for promotion for musical education.
Madhurjya was fortunate enough to have his ears accustomed to the divine fragrance of Indian classical music from his very childhood. His graceful style, intricate technique and his solid musical traditional background echo the great masters of the past.
Madhurjya has received his lessons in tabla from his illustrious father Dr.Dilip Ranjan Barthakur, an eminent Tabla player and a musicologist. He also had the great fortune to learn from his father's guru Late Ustad Munne Khan of Lucknow. At the very tender age of three, Madhurjya had his initiation with the Ganda Bandhan ceremony by this great stalwart of Farukhabad Gharana.
Madhurjya has been actively working not only as a performer but also for the promotion of Indian Classical Music and Indian Culture by promoting musical education among youth in diverse areas. He has also been the propagator and promoter of Indian Classical Music in India and overseas including the war torn country of Afghanistan.
DEGREES AND DISCIPLINES
• Graduated from Rabindra Bharati University,Kolkata, with Honours in the subject of Music.
• Masters (M.A.) in Music from Rabindra Bharati University.
• A first class Visharad (B.Mus.) holder from Bhatkhande Sangeet Vidyapith of University
HONORS/AWARDS/SPECIAL ACHIEVEMENTS.
• Awarded with the title of TALA MANI from Sur Singar Samsad of Mumbai in 2008.
• Awarded from the Govt. of Uzbekistan with the title of "Person Who Cares For The Art Of The East", in Sharq Taronalari International Music Festival in Uzbekistan in 2019
• Has been awarded in Opera Auditorium by the PRESIDENT OF ALBANIA for performing at 13th death Anniversary of MOTHER TERESA in 2010.
•Awarded the National Fellowship in Music from the Ministry of Culture, govt. of India in 2014
• Awarded the NATIONAL SCHOLARSHIP in Tabla from the Ministry of Culture, govt. of India in 2006.
• A recipient of National Talent Scholarship in Music from 1996 to 2005 from the CENTRE OF CULTURAL RESOURCES AND TRANING(CCRT), GOVT. OF India.
• An empanelled artiste of INDIAN COUNCIL FOR CULTURAL RELATION (ICCR) in 2008
• Performed tabla solo as a delegate from West Bengal Government in NATIONAL INTEGRATION PROGRAMME held in Cochi, Kerela in 2005.
• Performed tabla in DOORDARSHAN LUCKNOW, GUWAHATI, PPC, DIBRUGARH, N.E.TV, BBC LONDON, FRANCE TV, NEWS ALBANIA, ARIANA TV etc.
CONTRIBUTION AND LEADERSHIP ACTIVITIES:
• Have been working for the promotion of Indian Classical music and folk music in the remote tea gardens areas of Dibrugarh, Assam. Have been actively working as the teacher and artistic director of Chaulkhawa Sangeet Mahavidyalaya, pioneer institution in field of Indian Classical and folk music and dance since the past 10 years.
• In the remote tea gardens areas of upper Assam children face great problems of the lack of education and better facilities of life. In this regard promotions of musical education has gone a long way in providing them the opportunities to explore their talents by learning various forms of musical instruments and dance forms both classical folk. The result has been evident as large numbers of such students have become successful artiste and performers who have taken music as a profession to earn their living.
• Have regularly conducted workshops, lecture demonstrations, concerts and programs for the students focusing creating an atmosphere whereby the students can be groomed as professional performers. For this purpose renowned artists and performers are also invited to perform.
• Have been working as a guest faculty in the Afghanistan National Institute of Music, ANIM, in Kabul, Afghanistan since 2013. Have been working there as a faculty of music and work for the promotion of Indian Classical music in the conflict ridden country where music has been banned by the Taliban. Have organized student ensembles and performed in annual gala concerts. I have also worked for the promotion of Indian classical music to the girl students of ANIM as well. Many students have come out as successful performers amidst all the surrounding adversities in the country.
EXPERIENCES :
• Worked and Performed as an Expert of Music for PROMOTING INDIAN CLASSICAL MUSIC WITHIN THE YOUTH, with the students of Schools, Colleges, & Universities through SPIC MACAY concerts, since 2011.
• Works as a Visiting Professor in the Faculty of Performing Arts, Dibrugarh University, Assam since 2012.
• Works as a visiting teacher in the faculty of Afghanistan National Institute of Music, Since 2012
• Attended several workshops and seminars organized by CENTRE FOR CULTURAL RESOURCES AND TRANING in different regions of India, in the year 1999, 2002.
• Worked in a project entitled A COMPARATIVE STUDY OF MUSICAL INSTRUMENTS OF BIHU DANCE OF ASSAM in 2010, Kolkata.
• Works as a visiting teacher of instrumental Music in CHAULKHOWA MUSIC COLLEGE, Dibrugarh, Assam.
• Has Experience of Organising with various musical organisation, such as "Chaulkhowa Music college Sangeet Sammelan", "Sadhana Music circle", etc.
• Represented India to perform & work together in different countries with many great musicians from France, England, Spain, Portugal, etc. in various festivals like Jazz festivals, Rock festivals, Western classical festivals, film festivals etc.
PERFORMANCES :
Some of his performances in India :
● Sankardev Festival in Guwahati
● Sangeet Natak Academy,Sangeet Pratibha festival, Shillong
● All India National Integration Sammelan held in Ernakulam, Kerala
●Kelucharan Mahapatra Memorial Sangeet Sammelan atBhubaneswar
● Kal Ke Kalakar Sangeet Sammellan of Mumbai
● Sanskar Bharati Sangeet Samaroh at Jharkhand
● 9th Kalakshetra Diwas at Guwahati
● All India National Integration Sammelan held in Ernakulam, Kerala
●Kelucharan Mahapatra Memorial Sangeet Sammelan at Bhubaneswar
● Swar Sadhana Samiti, Mumbai.
● Swami Haridas Sangeet Sammelan, Mumbai
● Samrat Sangeet Sammelan in Goa
● Malhar Aavishkar in association with Indian Council of  Cultural Relations & Symbiosis International Cultural Centre at Pune
● Gurukul HERITAGE in Durgapur
Some of his prominent performances abroad:
● Mananan International Festival in Isle Of Man, UK
● Nehru Centre in London
● Milapfest Festival in London, Liverpool
● Indian Association in Manchester
● Deia International Festival in Spain
● Creuse Festival of Music in France
● De Musique De Uzerche International Festival in France
● Palau March Festival in Spain
● Evora Classica International Festival in Portugal
● Opera International Festival in Tirana
● Royal Overseas League in England
•Sharq taronalari International Music Festival, Uzbekistan