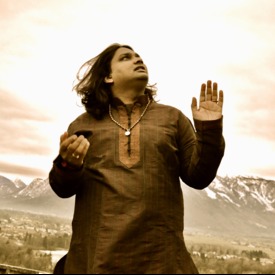 mahesh vinayakram
@maheshvinayakram
the first male singer to be casted in theatre Cirque du soleil,unesco millenium awardee.
Mahesh Vinayakram, illustrious son of the Ghatam legend Padmabhushan T.H.Vikku Vinayakram is the first Indian male singer to be cast in the theater Cirque du Soleil. He is a UNESCO Millennium award winner. He started his career as a SOLO VOCALIST at the age of 12 & he is a senior disciple (shisya) of Smt. Radha Viswanathan, daughter of Bharat Ratna Smt. M.S.Subbulakshmi and continuing the Semmangudi parampara (bhani) of sangita pithamahar Shri. Semmangudi Srinivasa Iyer in Carnatic music presentation. He had opportunities to get vocal lessons from Gurus like Shri H.Y. Narayanan, Shri O.S. Thiagarajan, Smt. Savithiri Sathyamurthy, Shri. Bhagavathulu Seetharama Sarma (Kalapeetham, Chennai).
Being a master degree holder in sociology & secretaryship from Madras University and Annamalai University, his passion was always for music.
Having performed in all metro cities as solo Carnatic performer in concerts in major sabhas, he has also trained himself as a contemporary singer for various world class musicians like Ustad Zakir Hussain, Stevesmith, Sandeep Raval, Talvin Singh, George Brooks, Kai, James Asher, Jonas Hellborg, Shawn Lane, Pete Lockett, and world class productions like Sapthaakshara, a family band led by his father Padmabhushan. T.H. Vikku Vinayakram having all his siblings and shisyas on stage.
PRODUCTIONS
MAHESH VINAYAKRAM'S PRODUCTIONS
"CHARISHNU" 35 dancers and 8 art forms and 7 leaders for each art form led by Shri. Leela Samson where Mahesh Vinayakram is one of the leads taking care of percussion and live singing, where the production is supported by Indian cultural department, govt of India.
"K&G Business Class Refugee" a digital new age live music & dance production by Indo-Isreal band by Votam Agam and Patrick Sebag, Isreal.
"Ethno histeria " by Matija Solcea and friends from Slovenia
He has also sung in Bollywood & Hollywood movies, some hit songs to list – "Puliurumudu" song in the movie Vettaikaran music by Vijay Antony , "Kannea I love you" from 'Thakadimitha' music by D. Immaan and rerecording for Hindi movie Raavan by A.R. Rahman and many other session works for music directors like A.R. Rahman, Vijay Antony, D. Imman etc. Besides voice over for more than 8 Tamil tele-serials being dubbed in all 4 southern languages in major satellite television of south India.
He has toured extensively to many places in the world for both world music productions listed above and also as freelancer singer for various artists and festivals. To list a few – U.S, Germany, France, Italy, Norway, Sweden, Mauritius, South Africa, Ghana, Kenya, Indonesia, Lesotho, Zambia and many other countries.
PRIZES & AWARDS
SOME OF THE AWARDS TO HIS CREDIT
Award of "National scholarship" from central govt of India cultural department
"UNESCO Award" for Millennium 2000 Concert held at Indonesia organized by UNESCO
"Asthana Vidwan of Kanchi Shri Shankara Mutt" by Shankara Matam, Kancheepuram
"Maharajapuram Santhanam Award" by Krishna Gana Sabha, Chennai (2000)
"Best Performance Award" Venkateswara Temple – Pittsburgh, U.S.A.
"Best Performance Award" by High Commission of India concert held at Kenya (2002)
"Gana Kala Vipanchee" by Dr. Balamuralikrishna's Vipanchee Trust (2011)
"Madhura Murali Puraskar" by Vipanchee Trust (2012)
ALBUMS
SOME OF MAHESH VINAYAKRAM'S NOTABLE ALBUMS
"MTV Coke Studios" production song Vachan by music composer Mr. Nithin Sawhney featuring Shri. Mahesh Vinayakram
Sruti box production (U.S) by Shankar Tucker's GURU BRAHMA featuring Mahesh Vinayakram
"Terracotta" Fazuma 2010 featuring Mahesh Vinayakram by Fransisco, Lisbon
"Bravado masala" by James Asher & Mahesh Vinayayakram by Star Field records, UK
"Journeys through masters of percussion" by Petelockett by Music Today, India & UK release.
"K&G business class refugee" by Earth Sync records, India & Israel
"Drums On Fire" – James Asher, London by Star Field records, UK
"Icon" – Jonas Hellborg, Sweden . 'Live Show Of Paris " by Bardo records, Sweden
"Karnatic Classicals" – by CSC, India
"Impressions" – by Music Today, India
"New Morning" as DVD in collaboration with BBC live recording released by Bardo records, Sweden & US and many others
SHARE:
© Mahesh Vinayakram 2019. Developed by admin@learnwise.in