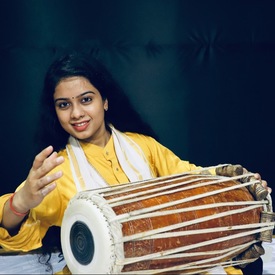 Mahima Upadhyay
@mahimaupadhyay
Mahima Upadhyay ,Pakhawaj player from New Delhi (India), 'A Grade' artiste from A.I.R. & Doordarshan, & MAIER Awardee .
MAHIMA UPADHYAY
PAKHAWAJ PLAYER
Mahima Upadhyay (Pakhawaj Girl) is a young talented international artist of pakhawaj in all over the country. She has been blessed with the art of music from his ancestors. Representing the 15th Generation of her 400 years old Pt.Vasudev Upadhyay Pakhawaj/Dhrupad Parampara of Gaya(Bihar). she is a 1st female pakhawaj player in her own traditional family & in whole bihar state. she has been getting very intense and fine training under his own father The Great Pakhawaj Maestro Pt. Ravi Shankar Upadhyay at the tender age of 8 years. Her First Performance was with her guru ji (his father) at the tender age of 12, at one of the india's most prestigious Festival called SAPTAK MUSIC FESTIVAL and thereafter she has performed in the prominent music festivals.
An " A " Artist From All India Radio, Mahima Has given a number of solo , Duet Performance and Accompaniment with Reputed Artist extensively in India and Abroad . She is eqally Fluent in Hindustani Classical vocal gayeki under the guidance of her mother vidushi Malti Upadhyay ..As Mahima also has been a TOPPER IN "Master-In-Music(Vocal) from khairagarh university…
Apart from Having Performed in a number of prestigious festival of the country and across globe,
she has Performed extensively in Europe , U.S.A. , Indonesia ,South Africa And many other places.
She has been recipient of Number of Awards and Recognitions including , Senior scholarship from MINISTRY OF CULTURE GOVT. OF INDIA , she has received GOLD-MEDAL Presidential Award by President of India,(AI.R.) , ITC-SRA Award kolkatta ( most-promising Artist ( Pakhawaj) , MAIER AWARD for best youth Icon Excellency in the field of Pakhawaj ( Percussion) , Young Female Yuva Pakhawaj Ratna Samman in Jaipur , pandit Siyaram Tiwari Yuva Kalakar Samman ,saraswati sammaan in Nangal and many more..
AT Present, Mahima Upadhyay is a part of and playing in "SAKHI" An outstanding All six female Classical Ensemble Group First Time in India, Conceived and Leading by TheGreatVocalist " vidushi Kaushiki chakraborty "( A star finest classical vocalist From Kolkata).