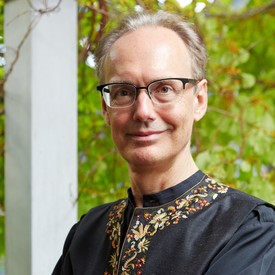 Michael Harisson
@michaelharisson
Michael Harrison is a contemporary classical music composer, pianist and Indian vocalist. He occupies a unique niche as an artist who has bridged the European musical traditions with those of North Indian classical music, forging an entirely new approach to composition through tunings and methodologies that employ and extend the ancient concept of "just intonation". The quality of his work and personal vision has earned him the label of, in the words of composer Philip Glass, a "maverick, outside composer" (Glass 2006).
Like his mentors Terry Riley and La Monte Young, Harrison has been a serious student of Indian music, first as a disciple of master Indian vocalist Pandit Pran Nath (1979–1996), and currently, a protégé of Ustad Mashkoor Ali Khan (1999–present). He is also the co-founder and president of the American Academy of Indian Classical Music (AAICM).
His compositions have received performances at Carnegie's Zankel Hall, Lincoln Center, BAM Next Wave Festival, the Museum of Modern Art, Metropolitan Museum of Art, the Louvre, Centre Pompidou, MASS MoCA, and other music and film festivals throughout the world.
Harrison has been on faculty at the Rhode Island School of Design, Manhattan School of Music's Contemporary Performance Program, the Bang on a Can Summer Institute at MASS MoCA, and has taught seminars throughout the country. He is music director at Arts, Letters & Numbers.