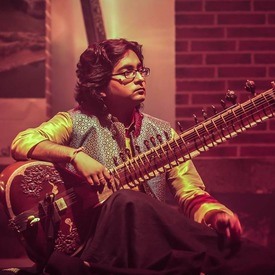 Deepsankar Bhattacharjee
@sitardeep
Sitarist, Composer, Performer, Teacher
"Sur-Moni" Deepsankar, a young sitarist born in the year 1986, is the fourth generation sitarist of an enlightened musical family. He embarked on his musical journey at a tender age under the tutelage of his father, Pandit Hara Shankar Bhattacharya. He also trained under the watchful guidance of his dada guru, Padmabhusahan Ustad Abdul Halim Jaffer Khan Saheb. He is the torchbearer of the JAFFERKHANI BAAJ, a unique style of sitar playing invented and perfected by Ustad Abdul Halim Jaffer Khan saheb.
Deepsankar is an " A-GRADE " sitarist from ALL INDIA RADIO. He has performed at various places in India and abroad. His performances in New York and in various cities of Austria, Italy, Belgium, Croatia, Luxembourg, CzechRepublic,
Netherlands, France, Germany, Slovenia, Greece, Spain, Sweden have been highly appreciated by the cognoscenti and the commoners alike. Deepsankar has been awarded by several Gold medals and titles from various organizations all over in the world.
Achievements
Gold Medal from Sarbobharatio Sangeeto-o-Parisad
Scholarship from CCRT
"A-GRADE" sitarist from ALL INDIA RADIO
Awarded by Pt.Ravi Kichlu Foundation
Earned the title of "Sur-Moni"
Awarded with Ravi Kopikar Memorial Award from International Foundation for Fine Arts
Won the AIR Music Competition
Awarded by Arobindo Institute of Culture
National Scholarship by the Ministry of Culture
Won the classical competition organised by Vedic Heritage in New York
Gold Medal From Harballav Competition.
Honoured as "Malhar Manishi" by Malhar Mahotsav, Ajmer
Awarded Brahm Dhyanam Purashkar from Sangeet Vidyapeeth Parisad
Empanelled Artist of EZCC & ICCR
Prestigious Performances
​
Performed in NCPA,Mumbai,
Performed in GERMAN FILM FESTIVAL,
Performed in All BENGAL MUSIC FESTIVAL,
Performed in RAMAKRISHNA MISSION GOLPARK,
Performed in Naad Niket Sangeet Sammelan,
Performed in prestigious SALT LAKE MUSIC FESTIVAL,
Performed in tribute concert of USTAD RAHMAN KHAN,
Performed in Delhi Habitat Center,
Performed in BABA HARBALLAV MUSIC FESTIVAL,
Participated in "Indian Classical Music talents"
Sitar recital in "Kal-ke-kalakar",
Sitar recital in HARIDAS SANGEET SANMELAN in Mumbai,
Performed in INDIAN EMBASSY New York.