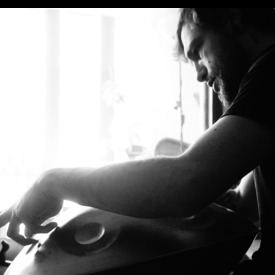 Taz Roland
@tazroland
Depuis 15 ans, le fait de pratiquer la musique représente une thérapie et un moyen de communication et de partage de mes émotions. La curiosité m'a poussé à explorer des mondes musicaux différents de diverses cultures.
Guitariste de formation, je me suis spécialisé dans les percussions il y a près de 10 ans.
Le handpan occupe une place toute particulière et m'a permis de compléter ma palette d'expression musicale.
Installé à Lyon depuis plus de 5 ans, je transmets ma passion de cet instrument en concerts, par les cours particuliers et les workshops.
Mes compositions sont le résultats de rencontres très riches et de constructions de rythmes et de mélodies inspirés de la musique du monde.
Pour plus d'informations:
Facebook : Taz Roland Handpan Musician
Instagram: taz_roland
Youtube: Taz Roland
Playing music for 15 years has been to me like a therapy. It has been a way to communicate and share my emotions. Curiosity drove me to explore the musical worlds of various cultures.
Initially trained in guitar, I specialized in percussions around 10 years ago.
Handpan is very unique and enabled me to achieve a wider range of musical expression.
Based in Lyon for the last 5 years, I have been working on passing my passion for this instrument through concerts, private lessons and workshops.
My compositions are the result of rich encounters and are inspired by rythmic patterns and melodies from all around the globe.
More informations :
Facebook : Taz Roland Handpan Musician
Instagram: taz_roland
Youtube: Taz Roland