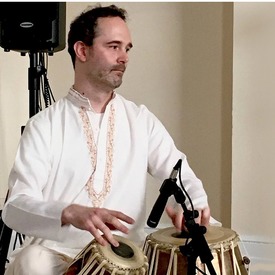 Todd Miller
@todd
Todd is a tabla player and instructor and a sound and recording engineer.
Todd grew up in New York City and hails from a musical family. His musical background started with piano and extending to guitar, bass, percussion, drum set, and tabla. Todd has been a student of Pt. Samir Chatterjee since 2003 and lives in New York City. He has performed with the Chhandayan Tabla ensemble in performances of "Tablaphilia" at the Metropolitan Museum of Art in NYC, and in Pittsburgh, New Jersey, and at the Chhandayan Center for Indian Music. He has also performed on bass with the Chhandayan Jazz ensemble in Toronto, and at the Chhandayan Center for Indian Music. Todd is a member of the Chhandayan Faculty in Tabla since 2015 and enjoys teaching students of all ages. Todd has recently been initiated as a disciple of Pt. Samir Chatterjee in 2016, and is continuing his studies and musical development.
Todd is also a live sound and recording engineer. As such he has been involved for several years in Chhandayan's live sound for concerts, and documentation, in New York, New Jersey, and Toronto. He has several CD and DVD's to his production credit in recording, mixing & mastering Indian classical music. Todd has also done live sound and production work for Sangeet Sabha productions in the NYC area. He has worked with artists such as Pt. Vidyadhar Vyas, The Gundecha Bros., Pt. Nayan Ghosh, Utd. Shujaat Khan, Pt. Ragunath Seth, Pt. Debashish Bhattacharya, Pt. Kedar Nephade, Smt. Mitali Banjerjee Bhaumik, Pt. Samir Chatterjee, Pt. Anindo Chatterjee, Pt. Swapan Chaudhuri, and others.