The Heartbeat of Aflao | Traditional Music | Ghana Sessions 1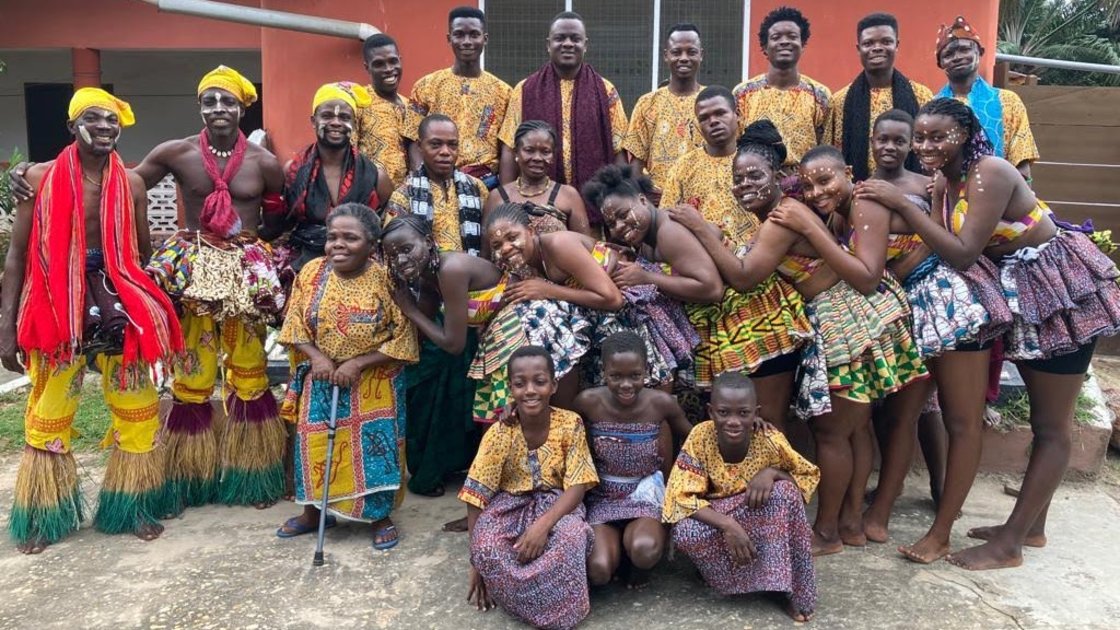 This event is streaming online
Sun, 16 Oct 2022, 03:00PM (EDT)
Sponsor
Viewcy Studio
Artists
Agbadza Youth Club
Amenuveve Cultural Troupe
Dagbe Cultural Troupe
Kopeyia Dunenya Kinka Union
Three Town Dunenyo Atsogbadza
Nutifafa Dance Ensemble
Host
Robert Levin
Producer
Paul Amegashie
Curator
Emmanuel Agbeli
A region spanning from the southeastern corner of Ghana, across southern Togo, and into Benin, the Aflao Traditional Area has an extremely rich musical culture. Everyone participates in community music, and singing, dancing, and drumming are a way of life.
For 6 weeks, we will feature new versions of traditional music and dance by 6 groups from the Aflao Traditional Area in Ghana. Creating this experience involved multiple communities across continents.

Curated by Emmanuel Agbeli, the Director of the Dagbe Cultural Institute and Art Center in the village of Kopeyia, and organized in collaboration with our host, New York musician and composer Robert Levin, this session involved shipping an HD camera, 4 microphones, and recruiting an able film production crew from the Aflao community of drummers.

This is music and dance curated and filmed through the lense of the keepers of this tradition.



The curator
Emmanuel Agbeli is a renowned master drummer from Ghana, West Africa. He is the Director of the Dagbe Cultural Institute and Art Center in Kopeyia (dagbeinstitute.org) and will curate the groups to perform in this series.
He is one of the foremost representatives of Ewe drumming, singing and dancing and has dedicated his life to the preservation and proliferation of his ancestral culture. In the Spring of 2022, Emmanuel completed a 2-month tour of the US, performing and teaching traditional West African music at 15 universities and schools in 6 states.
Emmanuel is also an accomplished sculptor, painter and a farmer.


The host
Robert Levin, a master musician and composer, has been diving deeply into West African music and culture for 45 years, and has been weaved into the Aflao area since 1988.
In service of the community, he founded a public elementary and junior high school in Kopeyia, a farming village in southeastern Ghana, and has helped to support and maintain the school since its inception 34 years ago. He organizes excursions for university students to learn music in Ghana.
Robert Levin is currently a professor of West African music at Montclair State University and performs percussion in the Lion King on Broadway. His compositions can be heard at robertlevinmusic.com and the story and photos of the Kopeyia school can be found at kgsf.org.
#1: Nutifafa Dance Ensemble
Artists: Nutifafa Dance Ensemble
Leaders:
Amegashitsi Cornelius - Chairman
Amegashitsi Kwabla - Vice Chairman
#2: Agbadza Cultural Youth Club (Aflao Batorme)
Artists: Agbadza Youth Club
Leaders:
Yao Atatsi – Chairman.
Rapheal Logosah – Vice Chairman
#3: Amenuveve Cultural Troupe (Aflao Weme).
Artists: Amenuveve Cultural Troupe
Leaders:
Dzikunu Geraldo – Chairman
Promise Seshie – Vice Chairman
#4: Three Town Dunenyo Atsogbadza Haborbor
Artists: Three Town Dunenyo Atsogbadza
Leaders:
Tuwonu Richard – Chairman
Adalesoshie Olu – Vice Chairman
#5: Kopeyia Dunenyo Kinka (Kopeyia)
Artists: Kopeyia Dunenya Kinka Union
Leaders:
Sali Godzor – Chairman
Yao Woegah – Vice Chairman
#6: Dagbe Cultural Troupe (Kopeyia)
Artists: Dagbe Cultural Troupe
Leaders:
Odartey Quashie – Chairman
Elike Agbeli – Vice Chairman