Pt. Nayan Ghosh, sitar with Ishaan Ghosh, tabla: Recital of Morning Ragas
by
S Asian Classical Music Society of Chicago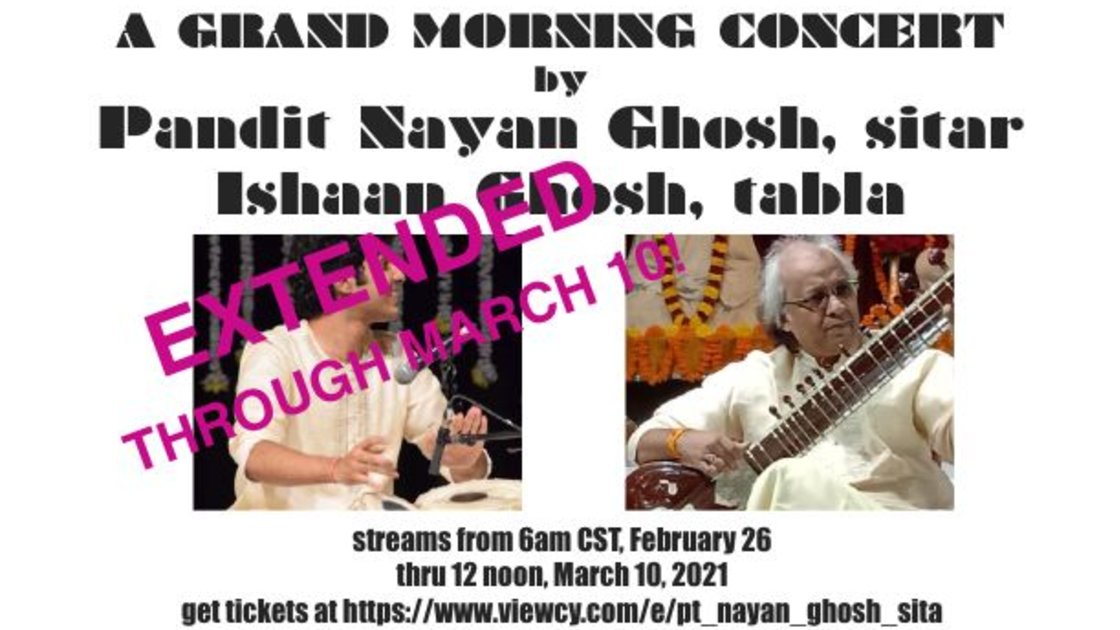 06 Mar, 2021, 7:20AM to
10 Mar, 2021, 8:00AM (CST)
Event past
Organizer
S Asian Classical Music Society of Chicago
Pandit Nayan Ghosh is acclaimed in India, Europe and north America as a leading sitarist of our day. He was recently honored as a recipient of the prestigious Sangeet Natak Akademi Award. His initiative to present a recital of morning ragas provides a marvelous opportunity to hear several timeless melodies that tend to be largely neglected in concert life. The weekend-long availability of the stream insures availability to hear the program at your convenience at an appropriate time in any time zone.


Ishaan Ghosh has burst onto the concert scene as one of the most brilliant new lights of the music with a glorious future predicted on all sides. The father-son duo's immediatley obvious characteristics are intensely close coordination and shared musical understanding. The duo also represents the latest iteration of a brilliant family heritage that includes transcendent flutist, Pannalal Ghosh, and tabla wizard/musical savant, Nikhil Ghosh, uncle and father of Pt. Nayan Ghosh respectively.

Pandit Ghosh's wide-ranging activities also include directing Sangit Mahabharati, an important, registered charitable institution in Mumbai founded by his late father for transmitting the great heritage of music and dance.

The concert originates in SMB's Baithak Hall, lending a further touch of intimacy and heritage to the proceedings.