Raqam Trio :Tom Chess, Mir Naqibul Islam, Indro Roy-Chowdhury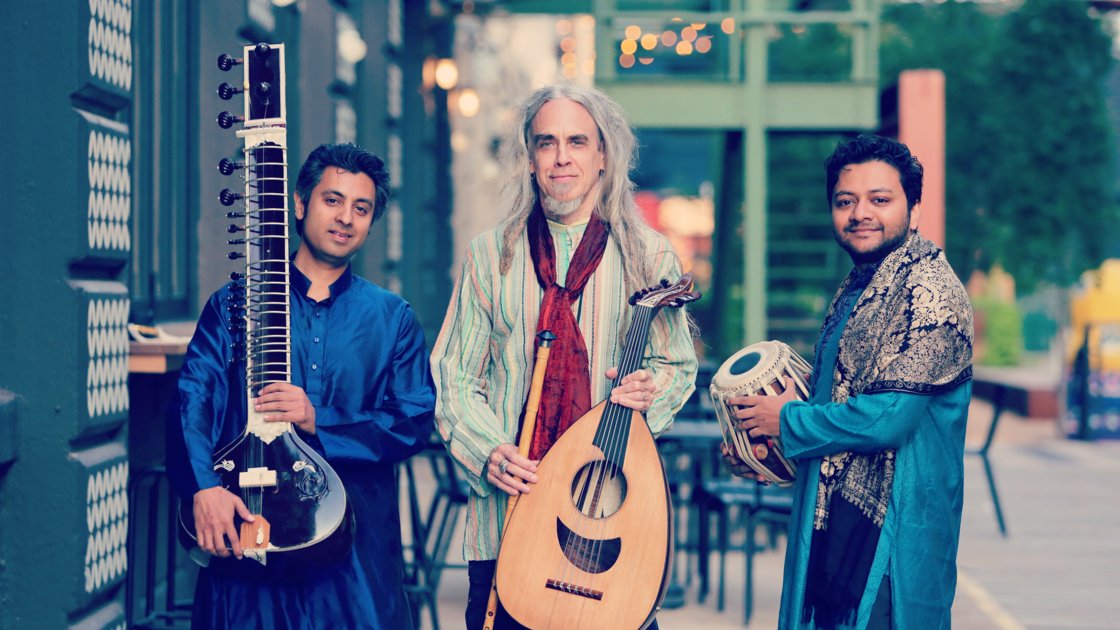 This is an in-person event

Sun, 22 September 2019

04:00PM - 06:00PM (EDT)

Event past Artist Mir Naqibul Islam Indro Roy-Chowdhury Raqam Trio is a collaboration between highly talented instrumentalists from New York City and Indian classical traditions, this unique matineé promises to be packed with excitement and soulfulness. Multi-Instrumentalist Tomchess joins in collaboration with two of NY's most exciting Hindustani musicians, sitarist Indrajit Roy-Chowdhury and tabla player Mir Naqibul Islam. Raqam=Raga + Maqam. All three members of Raqam Trio are devoted musicians within their respective focus on either the Maqam or Raga traditions and so naturally draw from these two ancient traditions of music; Indian Raga and Near-Eastern/North African Magam highlighting their similar as well as difference aspects. Raqam Trio also draws from many sources and musical experience in NYC and abroad. Multi-Instrumentalist Tomchess, mega-talented Tabla player Mir Naqibul Islam and esteemed Sitarist Indrajit Roy Chowdhury have been developing their own intimate and barrier-crossing musical language together and will present a mix of original compositions, improvisations, and traditional folk songs from the Near East, New York City and Bangladesh. 37th Street Theatre is a truly amazing professional artist loft space run by mad-creative artist John Bonafede; beautiful for listening and with an outside balcony for hanging. NYC based Multi-instrumentalist/improviser/composer and international performing artist Tomchess has played and recorded with some of the most esteemed players in the improvisational and Jazz scene (Dewey Redman, Butch Morris, Pharoah Sanders, Drew Gress, Ronald Shannon Jackson), as well as Morrocan Sintar player Hassan Hakmoun. Having deeply studied the Near Eastern, and North African traditions his syncretic sound encompasses the tonal palette, rhythms, and forms of these traditional musics as well as focusing on the transcendent unity of all human culture while never losing sight of his American roots and the importance and freedom of improvisation. Mir Naqibul Islam-An avid student of Tabla, Mir has trained in the traditional guru shisya style of Indian Classical music from Pt. Ashoke Paul, disciple of the great tabla guru Pt. Jnan Prakash Ghosh. Now living and working in New York city, he performs regularly with musicians from a wide variety of other genres, bringing tabla to Jazz, Middle-Eastern music and other contexts. By listening, learning and playing with musicians from around the globe, Mir is developing a unique musical aesthetic bringing together the musical influences of traditional Farukhabad style tabla and 21st century New York. Mir have studied with Pt. Gopal Mishra and Pt. Suresh Talwalkar in past and continuing his talim with the great Farukhabad Mastero Pt Anindo Chatterjee. Indrajit Roy-Chowdhury is one of the most talented young exponents of Rampur Senia Gharana in the venerated lineage of Pandit Birendra Kishore Roy Chowdhury and Pandit Subroto Roy Chowdhury. Primarily trained in the Veen-Kar style of Sitar which draws techniques and idioms from the Veena, Indrajit has been able to carve a niche for himself with his eclecticism and versatility. Indrajit strives for a fine balance of traditionalism coupled with innovation and is renowned for his meditative alaap and brilliant taans. Raqam Trio: Tomchess-Oud, Ney, Morsing Mir Naqibul Islam-Tabla Indro Roy-Chowdhury-Sitar Doors 3pm Performance 4pm - 5.30pm 15$ advanced 20$ door no one turned away Buzzer 10f Snacks and Drinks. You can also BYOB if you choose.