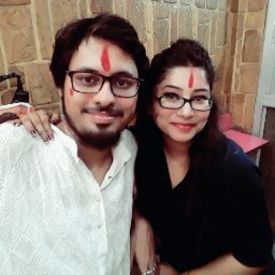 Alick Sengupta
@alicksengupta
Born in 1991, Alick Sengupta is a gifted Indian Classical Vocalist of his age. Since childhood he is trained under the guidance of his father, Indian Classical Vocalist, Pandit Ashes Sengupta & also under Padmasree Pandit Ulhas Kashalkar at ITC Sangeet Research Academy Kolkata.
Alick continues to perform at All India Radio & Doordarshan as a B High Grade artist
and at other prominent venues both in India and abroad like ITC SRA Sangeet Sammelan Kolkata, NCPA Mumbai, Art Base Brussels, AIR Gorakhpur etc.
In 2006, he was selected by the prestigious ITC Sangeet Research Academy in Kolkata to be one of its few students.
In 2010 he completed his first concert tour in Europe. Since then Alick has been regularly touring Europe for Concerts and Workshops on Indian Classical Music every year which includes several countries like Belgium, Germany & Netherlands.
In 2011 Alick received the "The National Scholarship for Young Artist", a National Recognition and award for Excellence in Vocal Arts by Ministry of Culture Govt of India. He has a first class Master degree in Vocal Music from Rabindra Bharati University. In 2017 Alick has got the honour of being empaneled in the list of Musicians by Indian Council for Cultural Relations (ICCR).
Alick earned top rankings in India's top classical voice competitions – National Balsree 2005, Golden Talent Contest (Pdt. Ravi Kichlu Foundation), Rajya Sangeet Academy, Tagore Foundation, All India Inter School Compitition,TTIS, The Dover Lane, All India Radio Music Competition.
Moreover, Alick appeared as a finalist on "Naadbhed" organised by Spic Macay and Doordarshan among thousands of vocalists across India on the year 2014.
He is currently A top Grade Musician Scholar at the ITC SRA. It is here that he began his advanced training under the tutelage of Padamshree Pandit Ulhas Kashalkar, one of India's leading classical vocalists. Alick continues to receive training from his legendary Guruji.