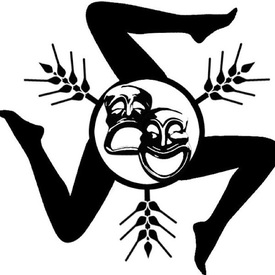 Trinacria Theatre Company
@trinacriatheatreco
Making a place for the arts within communities at home and across the globe.
Trinacria Theatre Company was founded in 2016 by Artistic Director and Sicilian-American theatre director, Mariagrazia La Fauci. The organization's mission is to use the arts as a means of intercultural exchange, place making, and community building across the globe. Trinacria believes in the power of the arts to communicate across languages and create a bridge across cultures. The company focuses on place-specific projects, programs, and events in collaboration with underrepresented and hard-to-reach communities.
The organization has three main programmatic branches: a touring theatre company dedicated to developing original work; a immersive creative residency for international artists in the village of Pezzolo, Messina; and a small arts festival in Pezzolo that seeks to combine the beautiful ethos of this small village with the rich tapestry of high-quality, international arts offerings.

In 2016, Trinacria hosted a company of 8 multidisciplinary American theatre artists in Sicily for a one-month residency. Company members were immersed in the culture of a rural village in the Messina region. The group collectively devised the full-length performance La Storia di Colapesce based on local folklore. The piece was performed in a blend of English, Italian, and Sicilian and toured through Messina, NYC, and Boston in the USA. It was also featured on RAI International.

In 2018, members of the original company hosted the first ever Trinacria Arts Festival: five days of free, participatory events in Sicily blending professional and community arts projects. Over the course of the event, Trinacria hosted workshops, storytelling circles, and a solo exhibit by an emerging photographer. The company participated in collaborations with local theatre artists and groups, resulting in "Theatre Sparks," and evening of short performances and works-in-progress. This was also the debut of Trinacria's original devised short, A Ghost Story, inspired by the Pezzolo community.

The Trinacria Arts Festival continued in 2019 with three-weeks of activities in conjunction with the third Sicilian Summer Residency, attended by new and returning international theatre artists. During this time, the company also developed a workshop performance of its latest production, The Hades & Persephone Project. This was performed at sunset on August 4th, 2019 at the brand new Villa Melania Cultural RE-Factory as the finale event of their debut season. In October 2019, Artistic Director Mariagrazia La Fauci and Executive Director Elena Kritter were invited to present at SETC's National Conference on Outdoor Theatre in Santa Fe, supported by a grant from the Paul Green Foundation.

Development on The Hades & Persephone Project has continued with a company of London-based collaborators. Trinacria received a National Lottery Project Grant from Arts Council England to support an R&D of The Hades & Persephone Project with public workshop performances taking place at the Drayton Arms Theatre in London (postponed due to COVID-19). Encore touring performances of La Storia di Colapesce were planned for the New England area in June 2020, but have been postponed to summer 2021. Trinacria Theatre Company will also be hosting the first Open Creative Residency and accompanying Trinacria Arts Festival in Pezzolo, Sicily from July 26 - August 16, 2021, featuring the works of four exciting international artists.
Trinacria Theatre Company LTD. is a tax-exempt non-profit under section 501(c)(3) of the Internal Revenue Code.